Packet telephony is revolutionizing the world's telecommunications infrastructure, opening the way to previously unavailable communications services. Many of these services are built on a media server or value-adding service platform. But IP-only media servers run the risk of stranded investment if the rate of next-generation network deployment is slower than predicted. And PSTN-only media servers are not enjoying favorable procurement decisions. This has led to increasing investments in media servers that support both legacy and next-generation networks… the dual- network media server (DNMS). This white paper addresses how the DNMS is most effectively designed to minimize cost and time-to-market while producing a system with the media and service flexibility demanded in times of regulatory, standards, technology, and investment uncertainty.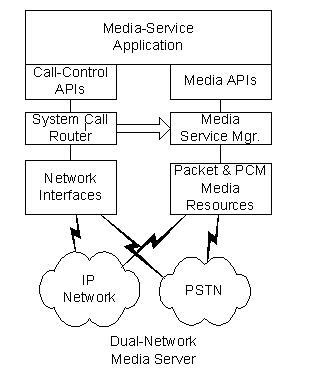 Cost and flexibility depend, of course, on how the system is designed. Low-function telephony middleware can add greatly to the system's application-development cost; high-function telephony middleware is able to make the target network transparent to the server application, making DNMS application development no more costly than for a single network. Fixed-function media-processing resources can add greatly to the system's hardware cost if both PSTN and IP networks are supported by separate resources. But flexible-function media-processing resources, although marginally greater in cost than fixed-function, can reduce the incremental cost well below the increase in system value.
Telephony Middleware
High-function telephony middleware products hide the type of network from the application by exposing a network-neutral call-control API to the application. The API packages call-control commands into packets that are forwarded to the System Call Router (SCR). The SCR, as shown in the diagram above, routes commands to the proper network-interface resource based on routing rules, such as the destination address. The SCR, through a resource-management scheme, informs the system's media-processing resource providers of the network selection so that they can create a resource graph that supports the network choice…all transparent to the application.