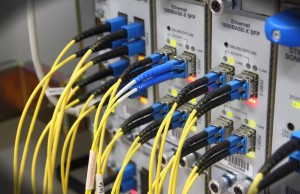 Although Commetrex' purpose is to serve the OEM with the industry's best value-adding platform, service providers have sponsored our development of application-level products they needed to meet a specific focused need, resulting in three ready-to-deploy BladeWare-based applications:
BladeWare Fax Media Server (FMS) is used in distributed architecture or IMS-like service networks to implement unified-messaging systems. Here, a SIP-based application server implements the UM application, using BladeWare FMS as an adjunct media server, controlled by MSCML to send and receive faxes.
BladeWare Fax-to-Email and Email-to-Fax are stand-alone implementations of these basic VoIP value-adding services. Add an interface to your subscriber interface and billing system and you're revenue-ready. BladeWare F2E extracts the called number for the inbound call and uses it to query a database to retrieve fax and e-mail options. BladeWare E2F directly receives subscriber e-mails with either PDF or TIFF-F attachments and faxes them to the indicated recipient.
The source code for these applications is provided in their SDKs and licenses are available on a per-channel basis.