What Happens in Vegas Won't stay in Vegas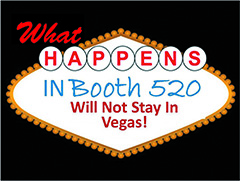 Yes, we'll be at ITEXPO 2014 Vegas on August 13 and 14, but this is the first time we've exhibited as NetGen Communications. Actually, we are co-exhibiting (booth 520) with NetGen's Shanghai partner, New Rock Technologies to signal the deepening partnership between the two companies.
The partnership's development and marketing of Smart ATA® has been a big success, so we have decided to take advantage of the relationship by NetGen bringing more of New Rock's proven enterprise gateways, PBXs, phones, and SBCs to the North American market, with the first stop being the MX series of access gateways to complement Smart ATA. But if you've not heard about Smart ATA, this may not mean much to you.
Have you heard of Commetrex' sister company, NetGen Communications, which produces and markets Smart ATA, the full-function voice-fax ATA that removes the two most-vexing FoIP problems from the ITSP's trouble tickets? It's true; you no longer have to be afraid of FoIP. Gone are the days of having to tell your subscribers "Keep your POTS for fax," because Smart ATA is built with NetGen's patent-pending Smart FoIP®. And you might not know is that Smart ATA is jointly developed and produced by NetGen and New Rock Technologies.
Until today, Smart ATA and Smart ACS comprised NetGen's product line, but now that is changing. The partners are introducinga suite of products to the North American market that deliver the enhanced performance, features, and value that established New Rock as one of the foremost vendors of enterprise IP-telephony across Southeast Asia. The newest addition to NetGen's portfolio includes the MX gateway series, which duplicates the features of Smart ATA, but at a much larger scale.
The MX series extends from the MX8 to the MX120 access gateways, as well as the MX100E trunking gateway, which supports up to four E1/T1s. The MX provides NetGen's channel partners with the solution to virtually any enterprise application problem with its ability to support nearly any configuration of station or office interfaces, up to the maximum capacity of the chassis. For example, the MX60 goes from 16 FXS to 24 FXS and 24 FXOs, in just about any combination.
If you are on the NetGen Channel mail list, two weeks ago you read articles on how NetGen's expanded product line allows its channel to address telecom's "long tail," you learned about the REST API, and details of the MX series…pretty good stuff. So, if you'd like to get on NetGen's e-mail list, fill in the on-line form or shoot an email to marketing@netgencommunications.com. And come see us next week in Vegas.