BladeWare Studio Server
Commetrex is known for providing fax-related products to the telecom OEM, reducing development cost and time to market. But our OEMs would like to derive the same benefits for voice applications, and now they do.
It's not well known, but we've been shipping BladeWare VXi, a commercial edition of OpenVXi, the industry's most popular VXML interpreter, for the last few years. BladeWare VXi delivers 3-5 times greater port density than the open-source version.
And then there's BladeWare Studio Client, a drag-and-drop VXML script-generation tool developed for the OEM. It's white-label ready, extensible, and produces server-agnostic VXML scripts, so it can be used with the OEM's preferred server. However, not all OEMs have a VXML server. But now, with the announcement of BladeWare Studio Server, they do.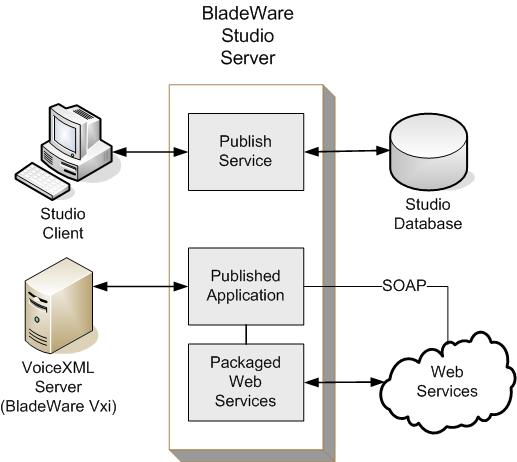 Commetrex BladeWare Studio Server works in conjunction with Studio Client to provide:
One-click publishing from the App Center Client
Access and open previously published applications from the server
Application versioning
Zero-downtime publishing; in-progress calls are not affected
Pre-packaged interfaces to back-end sources

SQL databases
POP/IMAP email servers
HTTP-based XML communication
Web pages
Flat text files
Studio Server does not require that you know VXML, SRGS, SSML, or any of the other standard languages that are generated from the client. With BladeWare Studio, you need not keep up with subsequent versions of each of the generated standard languages and compatibility between each of the languages. As the specifications expand and evolve, the support is added in Studio and applications will be automatically upgraded.
BladeWare Studio does not tie the application to the runtime server; Studio Client can generate open, standard VoiceXML code that can be run independently of the run-time server.
And Studio Client and Server will work with any standards-compliant voice browser. BladeWare VXML products provide more robust features out-of-the box if used together; however, they are not dependent on each other and can be used independently. That's what we mean by "Built for OEM."
If you'd like more info on BladeWare Studio, shoot us an email or call us at 770-449-7775 and press 1.